CHEESE FACTORY
De Molkerei stands for artisanal goat cheese delicacies from the Wadden Sea area and for the production of snacks filled with goat cheese and cream cheese. Premium quality, great taste, pure ingredients, attention for people and the environment, is the basis from which our team works.
QUALITY
The raw milk is stored in the cooling tank at the location of our cheese factory after which it is processed immediately. Rennet is added after careful pasteurization. The curd is hand-scooped into the cheese molds and turned at least twice by hand to ensure the traditional structure (not pressed).
RIPENING AND FLAVOURING
The soft goat cheese is given three days to taste and to ripen to achieve the perfect taste. Green herbs or other seasonings such as garlic, onion or tapenade will be added, depending on the kind of cheese we are making. Our newest innovation is Frisian goat cheese with seaweed. After this, we pack the specialty carefully under 100% pure sunflower oil in glass jars or buckets. This way our goat cheese can be stored for 3 to 6 months without the addition of any additives.
SUSTAINABLE
We strive for a sustainable cooperation with local suppliers.
De Molkerei is under the supervision of the COKZ. COKZ is the Netherlands Controlling Authority for Milk and Milk products. They supervise regulations regarding EU hygiene regulations (HACCP).
THE GOATS
Els started with one goat. In a short time, the goat population had grown to fifty and she started to focus on making goat cheese. The daily fresh goat milk is now supplied by goat breeding and dairy company Maatschap Meekma from Deinum. This is where she got her first goat lamb.
Meekma's goat stable is known for its high quality of milk and for the respectful handling and excellent care of the animals. The goat lambs are sold all over the world. He cares 700 milking goats and 300 breeding and young cattle at the moment. The goats are milked twice a day. Naturally, the "Kwaligeit" certificate is carried out. Every day the Molkerei collects the daily requirement of goat milk and there is a respectful cooperation.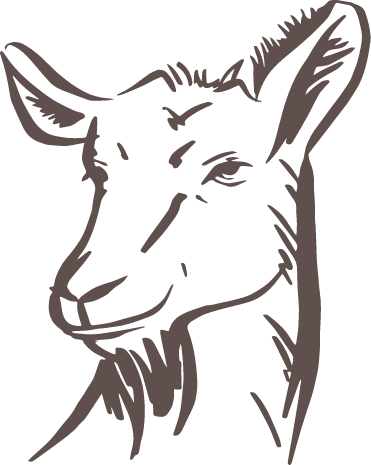 DISCOVER THE WADDEN SEA
We produce goat dairy from the Wadden Sea area in a traditional way every day. De Molkerei cherishes its artisanal way of cheese making and the honest preparation of the Mediterranean Specialties. The natural environment of the Wadden Sea gives us our daily inspiration to continue to follow the chosen path.
"Our love for the goat, passion for taste and region are the motivation to produce the best, artisanal Frisian goat cheese. We want to interest more consumers for specialties made of goatmilk"
Els Hartog