De Molkerei created a beer made of goat whey together with three Frisian beer brewers and put it on the market. The 'Weibok' was poured for the first time at the 'Lentebierfestival' in Leeuwarden recently.
It was the first time Hedy Hartog tapped a beer. Hedy runs De Molkerei together with her mother Els. "We have no knowledge of beer. We found it very exciting. Developing a beer is one, but whether it is also drinkable, is two. Fortunately, the reactions were positive. People quickly came by for a second beer".
Mother and daughter transport around 2,000 liters of whey, which remains after cheese making, to the waste processing company every year. They think it's a shame. "There are a lot of vitamins in whey." So they contacted a beer brewer in Leeuwarden with the question if he could process the whey in a beer. "That succeeded, but if we looked at the beer for a short while, it already went flat. There was still too much fat in it", according to Hedy Hartog.
CENTRIFUGE / SEPERATOR
"A classmate which I met during a dairy course in Oentsjerk, owned a centrifuge. I drove to Groningen with two buckets of whey to try it out." The test succeeded and Hartog purchased a bigger centrifuge which can process 650 kilo of milk per hour. The beer is of good quality now and the customer responds enthusiastically. Both parties will be discussing how to put the beer on the market soon. They will check if they can use the sales channels of De Molkerei, but they are also thinking about the customers of the beer brewers.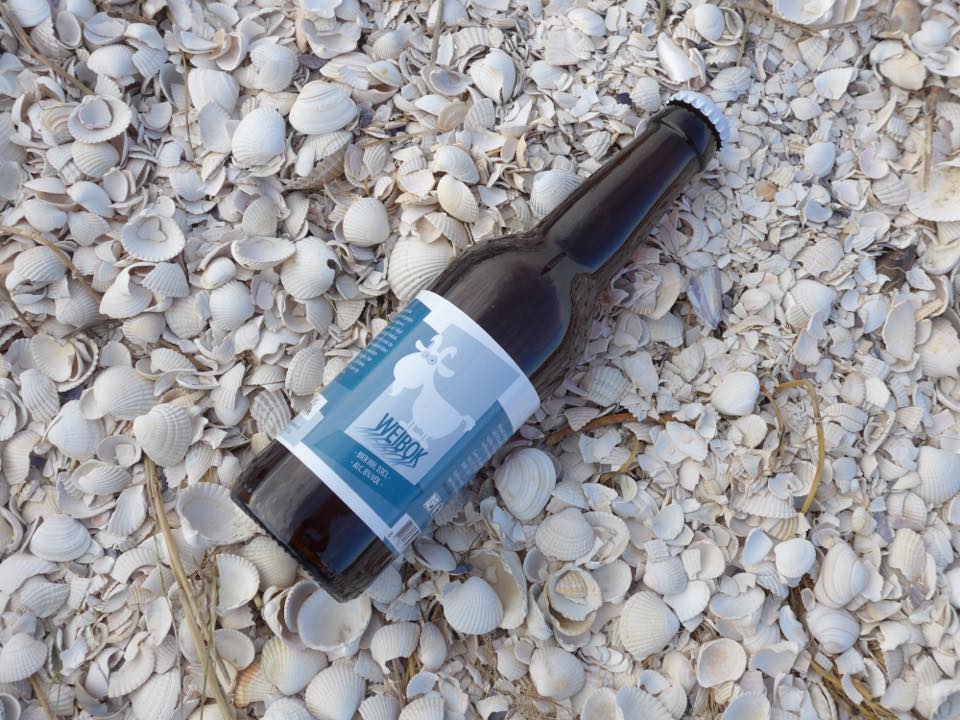 STRENGTH OF COOPERATION
According to the entrepreneur, these different channels are also the strength of the collaboration. "That strengthens each other. We receive a lot of calls. Someone from Minnertsga just called to ask if can pick up a six-pack of beer. A wine trade is also interested. We have to make new beer soon." Hartog assumes that there will not be much profit left of the sales. "The fact that a residual product is used as a raw material for a new product is the most important thing for us."
The company, which makes thirty types of tapas in addition to goat cheese, will focus primarily on producing cottage cheese and yogurt in the coming period. For this, the entrepreneur wants to go to around 400,000 kilos of milk to be processed per year and to expand the business. "The demand for goat dairy is increasing. We have the potential to double" declares Hartog. De Molkerei employs twenty people, half of whom work in the cheese factory.
SNOW WHITE
Almost 30 years ago they could never have imagined that mother and daughter would ever have plans to process 400,000 kilos of milk. The family moved from the city to 't Bildt in 1990. "My mother wanted to go here because of the peace and space. She bought a goat for the children that we called Snow White. She began to milk the goat and used the milk to make butter, cheese, buttermilk, and yogurt for her own use. It was very idyllic.
More goats followed after Snow White and they had about fifty goats soon. The cheese was made in the barn, in a separate cheese kitchen. Her parents had to fight hard to sell the cheese, says Hartog. "We visited markets to sell the cheese. But the consumer spit the goat cheese out in front of the tent. They considered it as food for the poor, as war food."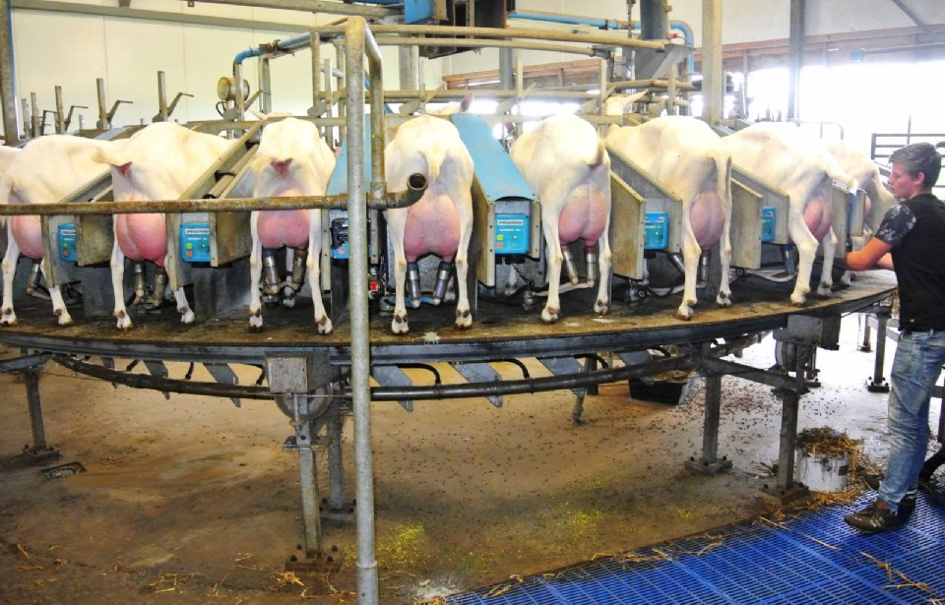 BRAND AWARENESS
In order to get more name recognition, the entrepreneurs took the step towards the catering industry. "My father bought the Michelin guide and very bold he went to all chefs with a pot of cheese to let the taste. This is how our cheese ended up at reputable restaurants like 'De Librije' and 'Lauswolt'.
The cheese production could no longer be combined with running a goat farm. The Hartogs returned to goat farmer Klaas Sjoerd Meekma from Deinum when the billy-goats were unable to leave during the FMD crisis. This is where they bought their first goat as well. "Their father and husband came to me and said, "I want goats that are just like yours.". That was the start. After that they bought more and more lambs." says Meekma. The goat farmer bought the goats back. Meekma now delivers 200,000 kilos of milk to De Molkerei, of the 1,3 million kilo which his thousand goats produce every year.
A GOOD STEP
According to Meekma their cooperation has been a good step. "A beautiful company has blossomed. They always come up with something else, like a whey drink with date syrup: YoGeit. But the challenge is to get the product on the market. That is why it is good that they've started a cooperation with beer brewers who are specialized in special beers. If you have to do that as an outsider, that is not easy. Many people enthusiastically start something, but after that you don't hear anything from them anymore."
Ulco de Jong from brewery 'De Kroon op Leeuwarden' had no idea if it was possible to process the whey in the beer, when he got that question from De Molkerei. "I looked it up on Google and ended up with a beer brewer from North-Holland which used whey as a by-product of cow cheese".
RELUCTANT
People initially respond somewhat reluctant, when they hear how the beer came about, De Jong notes. "My parents, for example, don't like goat cheese at all. They still taste the billy-goat in it. They expected that it would be the same with beer, but that is not the case. The Weibok, of the meibok type, starts sweet and ends slightly bitter, with a little bit sour from the whey in between."
De Jong makes the beer with three brewers under the name Klaverke Bier. He welcomes the collaboration with a "branch-foreign company". "Every year we want to develop a beer with another company and feed our creativity with their contribution. With this we get more pleasure from beer."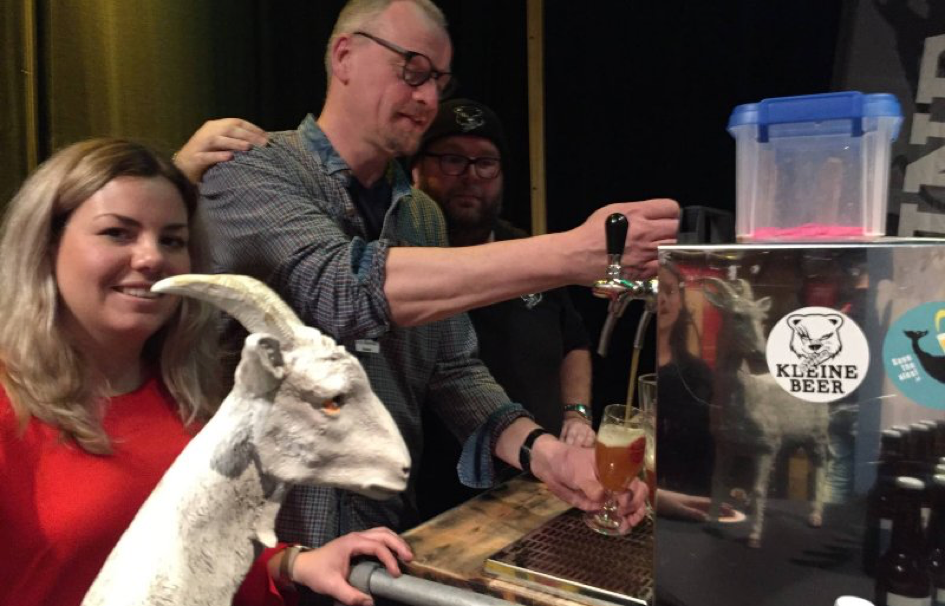 "Our love for the goat, passion for taste and region are the motivation to produce the best, artisanal Frisian goat cheese. We want to interest more consumers for specialties made of goatmilk"
Els Hartog